LMS for corporate training
Are you looking for a learning management system (LMS) to move your corporate training online but you're not sure what you're looking for? Here we'll explain why our online LMS software is the best solution for your Corporate Learning experience. Don't know for sure we have all that it takes? We're glad to show you around, just ask for an LMS demo.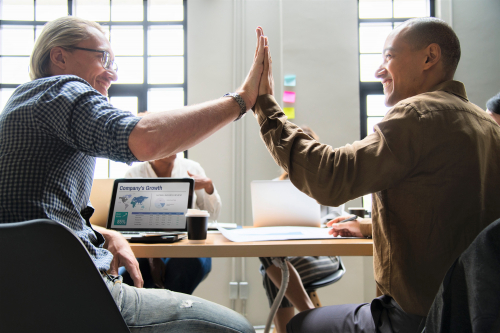 8 reasons why we're the best solution:
1. Create beautiful courses your colleagues love
With our LMS you can create courses, quizzes, exams and assessments. All for the same price. All products have the same user friendly interface. You can create beautiful and distraction free elearning experience. You don't have to be a designer, just focus on the content, our system will do the heavy lifting. Mix text, images, multi-media, practice questions and real exams in your course to get the best learning experience. Click here for an example course.
2. Invite your colleagues
Ok. You created your courses and now you want your colleagues to start learning. Upload the email adresses to our system and send them an invite. Easy as that. They find a mail in their inbox with their personal and secure link that takes them to your course.
3. Track their progress
In the Ranking & Stats part of your Dashboard you can track their progress. See on which point they stop. Export the results to make some reports for your boss. If some of your colleagues didn't start the course, simply send them a reminder. All at the click of a mouse.
4. Automatically send them a certificate
You want your colleagues to feel proud when to complete your course. What better way to send them a personal certificate. You can customize the certificate so it's completely branded. Generating & sending certificates is completly automated.
5. Integrate with other systems you use
You probably use different systems in your organisation. You can easily integrate our easy LMS with them. If you use MailChimp for your email marketing, just connect our LMS with your MailChimp account. You want to connect with Hubspot? With another CRM? Or other online tool. Use our webhook to setup your integration.
6. Skip IT
Because we're online, you don't have to install any software on your corporate servers. We don't have big implementation projects. So, we think you don't need your IT deparment to use our software. Just create an account and get going. Or, if you're not sure yet if we provide all you need, let us know! We're glad to show you around, ask us for an LMS demo.
7. Pricing
Our prices are fair compared to our (bigger) competitors. Pricing shouldn't be an obstacle to start learning.
8. Support
We have pretty awesome support. Our support is seriously superb, check out our reviews. When you use our system, support has got your back!
''Easy LMS gave BrandDisco© the foundational support to build a solid brand reputation in a competitive global marketplace!''
More articles that might interest you