LMS for customer onboarding
It's up to you. Do you give your new customers a warm welcome, or do you leave it up to fate? Everyone knows first impressions matter. Our LMS tool speeds up onboarding new customers, so they get the most out of your product or service and stick with you for years. Their commitment is your success.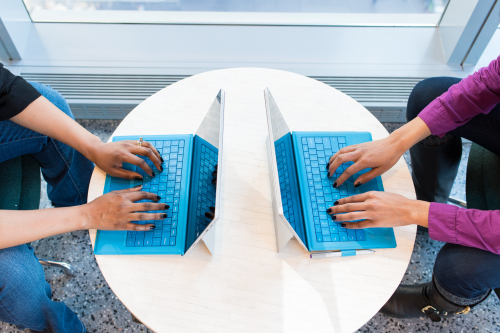 Why use an LMS for customer onboarding?
Increase customer trust
Customer onboarding requires quick and direct communication. Providing these kinds of training shows you are open as a company, and reliable. New customers will take notice and feel more comfortable approaching your support desk to give feedback or ask focused questions.
Reduce support costs
Stay ahead of questions by providing online onboarding
You want your customers to use your product or service to its full capacity. But they are often overwhelmed by all the options your product offers them. Soon, their questions mount up in your support team's inbox. By providing them with online onboarding, you stay ahead of their questions. Keep customers fully informed and happy too! Then, watch your number of support questions decrease.
Reduce overhead
Although we want to be organized, the reality is that it is easier said than done. Manual X is in folder Y, while instruction guide Z is in folder A. And where did we store the demo video? With an LMS you can keep all your instruction material in the same place, in the same format, and one click away.
Higher retention rates
Research shows the cost of acquiring a new customer is anywhere from five to 25 times more expensive than retaining an existing customer. When you make customer training a priority, you will see customer satisfaction rates rise to great heights. Also, customer loyalty will improve. As a result, your customers will renew their contracts time and time again. And isn't that all you want?
With an online training software you're up to date and futureproof
Everything is online
Paper manuals and introduction lessons in a classroom … we are not in 1999 anymore. With an online training software you're up to date and futureproof. This is a must, especially for online products. Putting everything online is better for the trees (and the Owls in the trees😉).
An LMS is also ideal for continuous product training. Read more about an LMS for customer training.
Why is Easy LMS the solution for you?
Multilingual
Do you have customers all over the world? Our LMS can handle that. It's available in 24 languages.
Excellent content creation options
One time set-up, easy to maintain
You can combine all of your instruction material in engaging courses. One time set-up, easy to maintain. Make your courses fun by adding videos, audio files, and PDF documents. You can also include test questions to verify they understand your product in detail. We offer advanced styling options so you can align it completely with your corporate identity.
Centralize onboarding materials
Do you have several onboarding courses? And do they have to complete this one after the other? Then our Academy is ideal. In our Academy you can require your customers to take their Courses and Exams in the order that is set for them.
Integration with your CRM
Let's connect your database of customers with our system. You can use webhooks or POST and GET parameters. This saves you tons of time.
Get to know your new customers better
Always wanted to know more about the size of your clients business? Our LMS enables you to ask for more personal and business information. You even have the possibility to create custom questions. Based on this information, you can target your marketing more precisely or refine your product.
Our LMS has all features to increase the customer adoption of your product or system!

Sharda, implementation consultant at Easy LMS
Our top 5 customer onboarding features
Check out our complete list of features.
The software is easy to use and offers all the features and functions I require for building and publishing exams for my online training courses. The support team is very responsive and able to assist with my questions. The company also made several enhancements to allow me to expand my training exam offerings.
More articles that might interest you