LMS for employee onboarding
Do you want your new hires to be up to speed in a few days and get ready to start working on your company faster? Using our LMS for employee onboarding can help you achieve that. With our tool, you get them prepared for their new roles seamlessly and without the challenges you are currently experiencing. It also helps to scale the training process after hiring new personnel.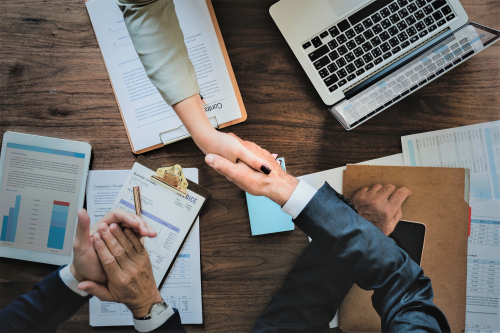 Why use an LMS for employee onboarding?
Save money
Time is money. Saving time on employee onboarding saves company money that could be used to … buy an LMS tool! Money is also saved when your new hires are ready to start their jobs faster. Onboarding is often a challenge. You have to arrange meetings, provide classrooms, hire trainers, and provide documentation. A lot of seasoned employees are required to cover these tasks. Using an LMS requires fewer of your human resources, which makes it far more cost-efficient for your company.
New hires become productive faster
Everyone will be prepared faster than if they were learning in a classroom setting
Training new personnel takes quite some time. Sometimes weeks, even months. With an LMS, less time is needed and your new hires can add value to your organization faster. They can learn in their own time and at their own pace. That means fast learners can move quickly through the training and slow learners can review the materials when they need it. This means everyone will be prepared faster than if they were learning in a classroom setting. And another plus: new employees feel more welcome.
Everything in one place
No more disorganized training materials that no one keeps track of. Upload all your training materials in one place and keep track of the results there too.
Employees receive feedback
Seeing their results on knowledge or personality tests makes new hires aware of where they can work on their weaknesses and improve their strengths.
Why is Easy LMS the solution for you?
Easily create training materials
Make new hires feel welcome and happy to work there
You can create beautiful introduction courses in your own corporate style that make a good first impression and communicate who you are as a company. Make new hires feel welcome and happy to work there. It's possible to combine text, video, images, and audio files in your online courses, which makes onboarding fun for your employees. You probably have some documents or PDFs that you send out to new hires. Those can be added to your Courses as attachments, images, or copied text.
Easily create knowledge tests
Easy LMS includes an Exam builder. You can use this to create knowledge tests after the initial training and see if your new hires are ready to start on their roles. You can also check the quality of your own training by seeing if the overall exam results match your expectations. It's possible to set up a pass/fail rate, choose between different types of questions, including video and audio, and generate a certificate at the end (optional).
Create personality tests and surveys
Do you have a lot of talented new hires, but are unsure where to position them in the organization? Or would you like to know about which team they would fit better? You can create assessments to learn about their strengths and weaknesses.. Assessments can also be used to measure your employees' satisfaction with the onboarding course(s).
You can assign specific content to specific groups
One central place for all onboarding material
Put all your tests and training materials in one place with the Academy. This is your own learning portal and it works as a course library where you can create groups of employees. These groups can be departments or sectors in your company. You can assign specific content to specific groups and analyze their progress. Easy and simple!
Analyze the results
Keep track of your new hires' progress by seeing their results and statistics in real time. You can see exactly when an employee has started an activity and how much progress he or she has made in it. It's also possible to generate certificates for the participants at the end. You can further analyze the results by exporting them into an Excel file. With this in-depth view of the results of your training and test materials, you can easily identify pain points and improve your onboarding process even more!
Our LMS has the perfect features to give your new hires a kick-start!

Anna, implementation consultant at Easy LMS
Our top 5 employee onboarding features
Check out our complete list of features.
The software is easy to use and also very detailed. You can do a lot with it, including courses, tests, exams, and personality assessments. I love that it's easy to use.
More articles that might interest you