LMS for K12
K12 (spoken as "k twelve", "k through twelve", or "k to twelve") is originally an American term to describe the mandatory school years from kindergarten to the 12th grade. It comprises the school years of students aged six to eighteen approximately. Should K12 schools use an LMS? What should educators consider when choosing one?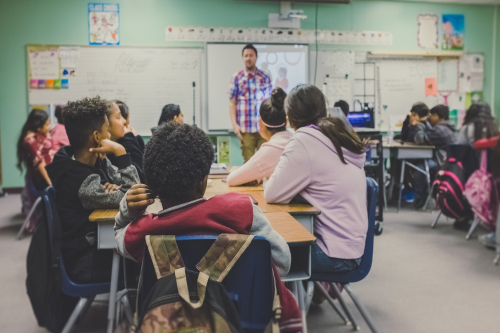 Why do K12 schools need an LMS?
Most teachers and educators have chosen this career because of their love for knowledge and the desire to help other people reach their full potential.
Teaching has always presented its challenges, so the ones who stick to this job must love it. We know that without teachers no other profession could exist. So, one could say that teachers and professors have the most important job in the world, which is to help other people gain knowledge and use it.
Teaching now is more difficult than ever
However, most teachers would agree that teaching now is more difficult than ever and that students seem much more distracted and uninterested than before (they waste so much time on the Internet).The new challenge most teachers have is to keep students engaged and interested in what they have to teach.
Since modern technology has become an extension of the life of K12 students, many schools have started to incorporate online learning as a part of their learning methods, and with good results.
Using an LMS (Learning Management System) can help teachers and students manage their tasks more efficiently. Check out some benefits online learning can have for teachers and students.
How can our LMS help?
With Easy LMS, teachers and educators can easily create online exams, courses, and fun quizzes for the students. These tests can be used in the classroom or at home. Students can access the material from their mobile devices and study in their own time and at their own pace.
Schools that provide learning materials for homeschooling can benefit from an LMS as well. The learning materials can be easily created and shared with parents and students without wasting any paper or commuting time. Even exams can be taken from the comfort of home!
We love teachers, so they pay less
If you are an individual teacher and want to pay from your pocket or work for a small school with a minor budget for teaching tools, we have a special price for you. If, however, you want and need more robust features to take your online learning to the next level in your school or organization, check out our regular plans.
Start now
If you have any questions concerning your eligibility for the Teacher packages, or anything else, please contact us through the chat to let us know.
''Easy LMS is like our dream platform. It has an intuitive user interface and the styling options are great.

We had no issues during the tests, and students, teachers and parents were all happy afterwards.We would recommend it to anyone without hesitation!''
More articles that might interest you