LMS for consultants
Your busy schedule and diverse range of customers demand efficient time management. We understand this need. Take advantage of the power of Easy LMS! Provide top-notch training to multiple customers simultaneously, all while eliminating administrative hassles. Maximize productivity and customer satisfaction!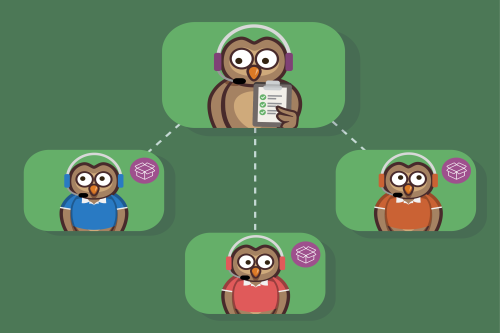 Use an LMS to make your life easy
It is a no-brainer that an LMS has more benefits than disadvantages. Let's convince you with our top 5 advantages!
It is a massive time-saver for your business, customers, and their employees.
Think of the money you'll save on travel, venue, printing, and instructor costs by putting your training program partially online.
It makes uploading, managing, updating, and distributing your training material a breeze.
It eliminates the hassle of day-to-day administration by automating tasks like sending invites and certifications.
You can analyze employees' progress and performance at a glance or dive deeper and get all the necessary insights.
In need of more evidence? Read our overview article about the advantages of a learning management system.
Train your customers' employees effortlessly with Easy LMS
You deserve convenience, and your customers deserve your undivided attention. So, let's transform complex tasks into simple actions and automate time-consuming administrative work with Easy LMS. Simply focus on what's important! All this is available at a flat fee, providing you with clarity and peace of mind. Stay calm and enjoy our special consultants' features!✨
Reach every customer on one platform
You can easily repurpose courses for multiple customers while keeping their data separate
Embrace our Academy, where you can effortlessly organize all your content in a single virtual location. Our centralized platform enables you to train multiple customers simultaneously without the burden of extra administrative tasks. Ensure each customer enjoys an individualized learning portal with its own:
Company branding: apply their font, colors, logos, and favicons.
URL: no obscure URL; it's simply part of their company.
Settings: support an invitation method that suits your customer.
Language: we provide a localized interface so you can train your customers' employees in their native language.
This professional look fosters a sense of familiarity among your customers' employees. Furthermore, you can easily repurpose courses for multiple customers while keeping their data separate. Want to give them instant access to the results or delegate tasks among your colleagues? Our cutting-edge admin management has you covered!
Build professional-looking courses
Use our Course feature to create professional-looking courses that resemble PowerPoints, but with even more options. Upload your existing material or design from scratch. You have many opportunities to brand your training material to your customer's style, increasing recognition and security. Repurposing existing training courses is easy. Make tailor-made training the standard!
Create exams in the blink of an eye
Experience the exam options you would expect of an LMS. You can create an Exam based entirely on questions you created previously! Or even better, effortlessly make a unique Exam with randomized questions for each of your customers' learners. Small convenience, big result.
Measure success, meet learning goals
Get a clear view of learning performance at a glance. Our cutting-edge reporting tool gathers all the necessary data for you. Learn which courses have been completed, check out test scores, and differentiate among different groups and customers. Use our visual reports to assist your customers in achieving their learning goals.
Also, utilize our reporting tool to demonstrate that the training was a worthwhile investment. Start with an Exam as a benchmark and end with it. The significant growth is the proof!
Enjoy a flat fee, no catch
We offer you a flat fee that guarantees predictability for your budget
Be amazed by the best value for money! What sets us apart? There's no per-participant fee, allowing you to expand your customer base effortlessly without incurring additional costs. Instead, we offer you a flat fee that guarantees predictability for your budget. As a result, you can keep your prices competitive too.
Simplify tedious tasks
We understand that you may want to avoid tasks that feel repetitive.Hence, we've simplified or automated the following tasks for your convenience:
Send invites.
Send progress reminders.
Score multiple-choice exams.
Generate certificates.
Filter out underperforming exam questions.
Repurpose courses for multiple clients.
Set up multiple learning portals.
Manage participants easily.
Export reports per group.
Research our features, and discover our pros!
What do our clients say?
"Easy LMS was the only company I could find that would do all I needed. This LMS has saved me probably 50 to 70 hours of work per month."
Marcus Strutz, Owner and Instructor at Back to Chiropractic Seminars, USA.
Read how Easy LMS gave this client the tools to take his training services to great heights.
"The Multiple Academy feature has enabled us to support the requirements of our clients; we are able to brand and populate an Academy whenever our clients require it to meet their operational needs. The support from Easy LMS has been fantastic, and we recommend the product."
Eddie Finch, Director Chapter Three Consulting
What do the experts say?

Discover which common challenges we resolve
Start a free trial. No credit card required.
Find out more about company training
We help you to get more out of your company training with our in-depth articles full of tips and tricks. Pick one, read on, and get inspired. Happy training!
More articles that might interest you