LMS for franchise training
Use an LMS for franchise training to coordinate, organize, and set up training that empowers your floor employees to excel in their daily work. Now, you can keep training consistent across all franchise units, which impacts your brand quality positively. Take advantage of the power of Easy LMS and achieve more than you thought possible.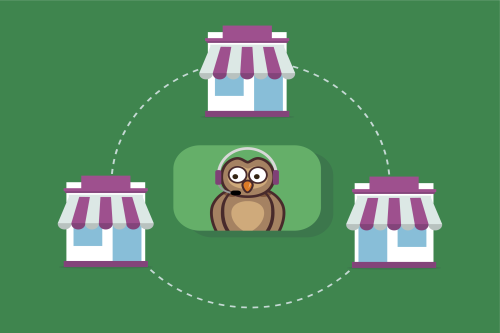 Use an LMS to make your life easy
It is a no-brainer that an LMS has more benefits than disadvantages. Let's convince you with our top 5 advantages!
It is a massive time-saver for your organizations and employees.
Think of the money you'll save on travel, venue, printing, and instructor costs by putting your training program partially online.
It makes uploading, managing, updating, and distributing your training material a breeze.
It eliminates the hassle of day-to-day administration by automating tasks like sending invites and certifications.
You can analyze employees' progress and performance at a glance or dive deeper and get all the necessary insights.
In need of more evidence? Read our overview article about the advantages of a learning management system.
Effortless franchise training with Easy LMS
Standardize the way franchise employees work by offering them uniform training with Easy LMS. Our fully-fledged platform, packed with powerful features, allows you to build and distribute consistent e-learning programs for all your franchisees worldwide! Empower them to start on their path to success. Keep calm and discover our highlights✨:
Intuitive Courses
You have many opportunities to customize your training material
Use our Course feature to create courses that resemble PowerPoints, but with even more options. You have many opportunities to customize your training material to your company style, ensuring brand integrity. Edits can also be made available to everyone in the blink of an eye!
Test how a franchised unit fares
Consistency and quality are the most important aspect of customer success. You can test this with our Exam feature! Combine an Exam with your onboarding program or regular training to see if everyone knows your standards and procedures. Experiment with the answer types and formatting until it sparkles✨!
Keep it organized and use an Academy
The Academy will be your sweet spot! The Academy is a central hub for your franchise units' employees to review all the necessary training material. You control their learning path, while they are in the driver's seat regarding their progress and approach.
A huge plus of the Academy is the option to create multiple groups. It's best to use a location structure here. Every group reflects a franchise unit and has access to specific material, which allows you, as a franchisor, to get insight into the performance of each franchise unit. And intervene where needed.
Divide and conquer
Standardization is, of course, key for you! Our LMS helps ensure all your units are on the same page about your organization's rules, procedures, and products. You will be responsible for the e-learning onboarding, while you can give the location manager the power to manage their employees' training access.
One tool with multiple languages
The learning environment can be localized
Translate your training program into multiple languages to accommodate your franchise units from all over the world. The learning environment can be localized entirely by changing labels and e-mails in the language of your preference; the complete learning experience will be in the employees' native language and transcend geographical boundaries!
Flat fee with no catch
Our LMS is priced fairly without compromising on its quality. You don't pay per participant, so you can grow your business without paying more. Our participant-session-based pricing model allows you to cope with peak loads, like launching a new location and onboarding new personnel, without hefty price tags. You could have one participant take 25,000 Exams, or 25,000 participants take one Exam. It means the same to us 😎.
What do our clients say?
"What is great about Easy LMS is that the training material can be created and edited by the local teams, who understand how the platform works, so we don't actually have a bottleneck in HQ to create all the training."
Yohann Bensadoun, Supply Growth Manager at Glovo, Spain
Read how Easy LMS gave this client the tools to bring their business to great heights.
What do the experts say?

Discover which common challenges we resolve
How can we make sure everyone automatically receives the new product instructions and tests?
How can we use your LMS to deliver training videos?
How can we share the participants' management with others?
Start a free trial. No credit card required.
Find out more about building effective franchise training
We help you to get more out of your franchise training with our in-depth articles full of tips and tricks. Pick one, read on, and get inspired. Happy training!
More articles that might interest you