LMS for partner training
Turn your resellers into your brand ambassadors 👑. Power them up to provide all the necessary knowledge to drive sales or perform maintenance with partner training! Let's look at how Easy LMS makes your life easy and your partner training effective!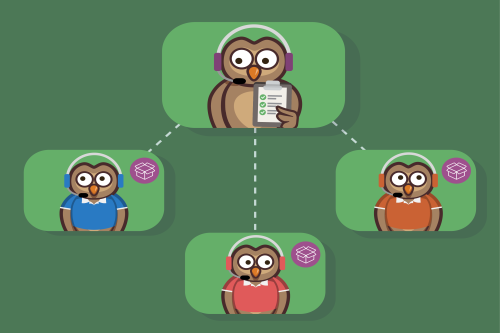 Use an LMS to make your life easy
It is a no-brainer that an LMS has more benefits than disadvantages. Let's convince you with our top 5 advantages!
It is a massive time-saver for your business, clients, and their employees.
Think of the money you'll save on travel, venue, printing, and instructor costs by putting your training program partially online.
It makes uploading, managing, updating, and distributing your training material a breeze.
It eliminates the hassle of day-to-day administration by automating tasks like sending invites and certifications.
You can analyze employees' progress and performance at a glance or dive deeper and get all the necessary insights.
In need of more evidence? Read our overview article about the advantages of a learning management system.
Provide effortless partner training with Easy LMS
Turn your resellers into product experts by training them in the basics with Easy LMS. Our fully-fledged platform, packed with powerful features, allows you to distribute mandatory product instructions alongside in-house training. Keep calm and use our LMS to guarantee faster product adoption, in-depth product knowledge, and better sales results✨!
Design and generate certificates
Do you only want certified partners? Our LMS is fully equipped to carry out an official (re)certification process from start to finish. Get creative and use our handy certificate builder with premade and customizable templates. A nice bonus is that the certificate will be sent automatically as soon as an Exam is passed or the Course is finished!
Intuitive Courses
Create an engaging Course for each aspect of the product
You can create Courses similar to PowerPoints, but with even better options, and it's responsive too! You can create an engaging Course for each aspect of the product. Start with an onboarding training in which you share the basics! Follow up by explaining product features in detail by sharing tutorial videos, presentations, PDFs, and/or audio files. Guarantee brand consistency by keeping the information the same across your resellers.
Build your Exam effortlessly
Do you want to know if they are ready to promote your product? Our Exam feature is the perfect fit for checking your resellers' performance. Test their knowledge through a diverse range of question types. The results will reveal their level and explain the knowledge gaps.
Make it their own
Let the feel of your brand resonate
Customize the look and feel of your training material, so it fits your precise needs. You can change logos, fonts, colors, and more. Let the feel of your brand resonate and boost how it is received among your resellers!
Flat fee with no catch
Our LMS is priced fairly without compromising on its quality. You don't pay per participant, so you can grow your business without paying more. Our participant-session-based pricing model allows you to cope with peak loads, like closing a partnership with a franchise, without hefty price tags. You could have one participant take 25,000 Exams, or 25,000 participants take one Exam. It means the same to us 😎.
What do the experts say?

Discover which common challenges we resolve
How to create an official certificate for our resellers
How to distribute your training material among your vendors, resellers, and distributors
How to partially replace face-to-face training with video training
Start a free trial. No credit card required.
Find out more about creating partner training programs
We help you to get more out of your employee training for others with our in-depth articles full of tips and tricks. Pick one, read on, and get inspired. Happy training!
More articles that might interest you