A performance review for the bosses? We do that at our annual roast your boss event!
We love learning at Easy LMS. Giving and receiving feedback is an important part of this, so that we can learn from and with each other. The bosses are no exception! That's why we hold a public performance review for our bosses at our annual roast your boss event.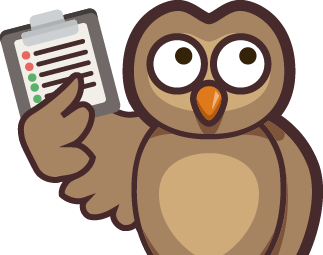 Most of us are used to having our performance and progress appraised on a regular basis in the workplace. Having the opportunity to turn the tables and do the same for your bosses, however, is pretty exceptional. At Easy LMS we have an open, non-hierarchical culture. Everyone is valued equally, and everyone's opinion counts. Our bosses are Job, Founder/CTO, and Jeroen, Founder/CEO/CSO. They look forward to our annual roast your boss event where we share our likes, dislikes, compliments, and suggestions with them!
"We ask a lot of our employees. To constantly improve we give a lot of feedback and show learning opportunities. We love to learn as well - how to be better bosses and better employers. We know it can be difficult for employees to give the boss feedback, even in the open and safe culture we strive for. We think we should lead by example. That's why we love the roast. It gives us the opportunity to get real and honest feedback, from all colleagues, not only the ones who speak up all the time. This structured approach gives us a lot of insight that allows us to grow as people and in how we run the company," Jeroen explained.
We think we should lead by example
The Corona pandemic meant that an in-person event had been out of the question for some time, and the bosses were overdue a roast. So we decided to make the best of things and host an online event instead, which took place on January 14, 2022.
Gathering feedback
In past editions of the roast, feedback was given in a survey. The performance of the bosses was anonymously rated on specific topics, such as communication and approachability. With some fun questions thrown in to lighten the mood. We found that a survey alone was too restrictive, people couldn't elaborate on their answers, or provide examples. So we tried out a new format this year.
Retrospective
As an agile company, each of our teams has a retrospective meeting weekly. We take the time to look back and consider what we learned, what went well, and what could be done differently. It was a familiar and natural way for us to get feedback for the roast too. We made small teams of 3-5 people that got together to discuss the bosses in a retrospective. On top of assessing Job and Jeroen individually, we also added a section to share what we thought about what was happening within the company as a whole, and how we felt the Corona crisis was managed from a leadership perspective.
Each retrospective was led by a moderator. We used the feedback from the previous edition of the roast in 2019 to kick off. We compared down to the situation then, to see how they were faring now by comparison. That seemed to help get the ball rolling. We had some fun, honest, and open discussions! In teams with colleagues of different disciplines, including seasoned and new colleagues. Everyone got to have a say. What was shared within a group, was anonymized before it was shared outside of the group by the moderator.
I felt empowered and heard as an employee
For Alexandra, Implementation Consultant, it was her first time. "The roast was a great opportunity for me to give honest and detailed feedback to my bosses. I felt empowered and heard as an employee to get that chance. It's not only about criticism. Everyone likes to hear some compliments now and then - also bosses!" she said.
Survey
We still did an anonymous survey too, but we limited that to the fun stuff. Which political leader are they most like? What's their spirit animal? What words would you use to describe each? The fun questions did also serve a purpose; they provided insight as to how Job and Jeroen are perceived, as well as lightening the mood.
Profit!
Our theory was that combining the survey with the retrospective would yield the most insightful information. We think that succeeded! The information collected was really valuable and far more comprehensive than in previous editions.
Presenting the feedback
The moderators reviewed all the feedback, good and bad, and compiled a presentation using our Easy LMS platform (naturally

). We gave the presentation at our online event with the whole company present.
Even though we couldn't all be together in person, we had a snacks and drinks package sent to everyone at home ahead of time to make the event more enjoyable. The perfect excuse for a champagne toast!
Both Job and Jeroen took being in the spotlight pretty well, listening to the feedback and taking it all in good spirit.
We also took the opportunity to show our appreciation to them with a unique gift. We had a customized Jenga game made for each, in the form of a compliment tower. Each brick had a piece of positive feedback engraved as a memento of the occasion. Not exactly Trump tower, but one better! We like to celebrate success.
After the official business was taken care of, we used the moment to catch up with each other and do some online games.
What next?
The exercise is not just for show
The exercise is not just for show. The bosses really do listen to what we have to say, and they take all the comments on board. "I'll write a reply to all the feedback to show and tell what I do with it, or don't, and explain why," said Jeroen. "Getting constructive feedback is crucial to personal growth, regardless of your role in our company. This year, I'm going to address all feedback with a reflection on how it fits (or doesn't fit) with me as a human being and my role as CTO in the company, and how I plan on doing better," added Job.
Teamwork for the win!