We asked, you answered! What did you learn in 2020?
Read about how Eléonore and Priscila came up with an essay contest for our clients and visitors, the response we got from them, and what we learned from their experiences in 2020.
At the end of 2020, Eléonore came to me with the idea of organizing a game contest for our clients and people that visit our website.
She initially thought about something related to the holidays, but then, upon discussing it, we realized that a lot of people wouldn't be able to travel or do 'normal things' during the holidays in 2020.
Our question
So we decided to do an essay contest, asking people to write a 500-word essay answering the question 'What did you learn in 2020?' We wanted to know if people used the time to learn a new hobby, a new skill, or learn more about themselves and others, to help focus on the positive outcomes that came from an unexpected situation.
The winner would receive a personalized Easy LMS T-shirt of their choice and a free subscription plan for a year.

Owlsome, right 🦉?
The response we got
We were impressed with the response we got! We received more than 30 essays from clients and non-clients all over the world. It was very difficult to find a winner, but Eléonore and I could finally spot the three most interesting texts. We judged based on the richness of detail, text length, and the positive outcome from this difficult time.
The best essays
Sophie Kindermann, our winner, will use Easy LMS to train children and teenagers about mental health. "I needed a platform that was easy to use because I had no time to learn how to use too many features that I didn't need." She decided on Easy LMS.
In her essay, she pointed out the difficulties with spending more time together with her family with everybody at home, and how she had to learn how to use video conferencing tools overnight (we hear you, Sophie 😅). In the end, she said she learned to be more chilled in everyday situations.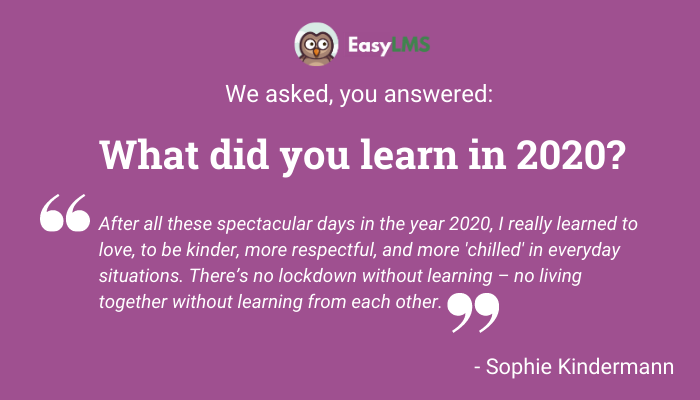 Read Sophie's essay.
Another interesting text was from Kislay. He said he had to learn how to have the right work-life balance, and finally learn to slow down and adapt to the new normal. "This lockdown and the pandemic have taught us, rather the hard way, about life."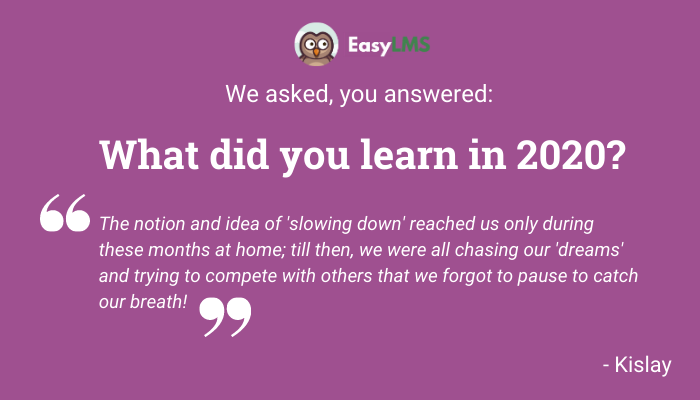 Read Kislay's essay.
Ken Keberle, also one of our finalists, wrote about the challenges he faced when his career as he knew it came to an abrupt end due to the pandemic: "In January I learned the word 'COVID-19'. In February, we learned its impact on my industry. In March, I learned my job was over for the foreseeable future. In April and May, I learned my career as I knew it was over. In May, I learned about Virtual Instructor-Led Training. Then how to convert all my teaching and content online. Then I learned Canvas, and Zoom, and Technology to support online teaching."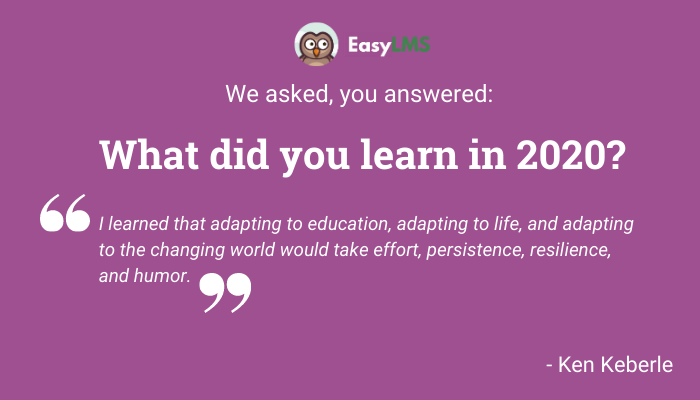 He then explained how he managed to turn around his career in a short time and even started a master's degree! Read Ken's essay.
Our findings
There are many more interesting bits to share, with many people explaining how their lives have been turned upside down because of the pandemic. Most people mentioned their difficulties with job loss, childcare, learning a new profession, how they learned to overcome these challenges, and what they learned.
One of our clients, Kim Tipau, said: "I work in the travel industry, so this was the year that I learned to pivot, focus my energies on uplifting others so that their happiness uplifted me to keep moving forward instead of focusing on how our industry fell apart overnight. This was the year I learned to create online training for my company, something before this that was done in person."
Others took the time to learn a new skill, such as a language: "I have started learning Arabic as I love learning some interesting languages but never had time," said Niharika.
Some took the chance to improve their DIY skills: "I watched a lot of DIYs especially on food, hair, and body, and managed to make my own hair oils, body scrubs. My nephews and I were able to teach each other how to make homemade pizza, onion rings, deep-fried. I was able to work on my creative side more in terms of drawing, singing, and rapping, though I'm not a pro on any of them yet," wrote Wamaka Nyondo.
Our takeaways
The pandemic presented everyone in the world with challenges, but also with opportunities to learn. We should always strive to get the best out of any curveballs life throws at us. We are pleased to find out that, despite the challenges, many people could survive and thrive during these difficult times.
For some social media posts, I also asked my colleagues which advice they could give to ease the stress during the lockdown. They had some interesting ideas! You can view some of them here: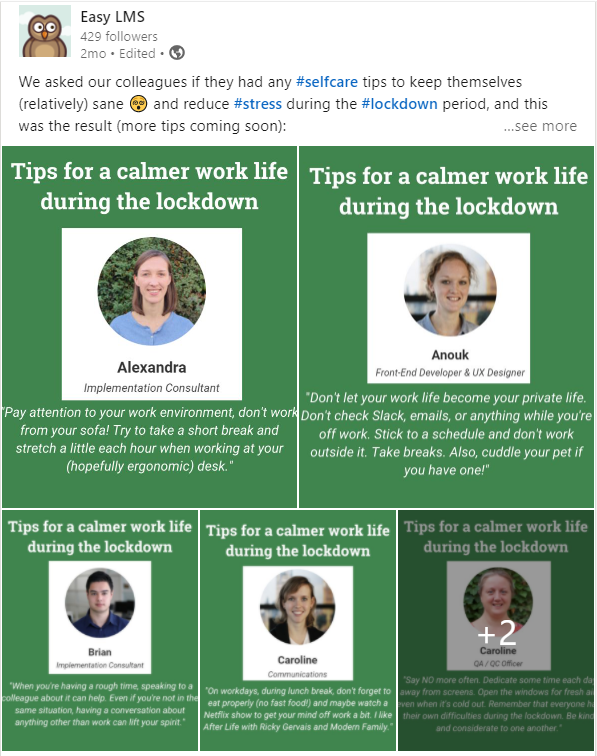 View post on LinkedIn.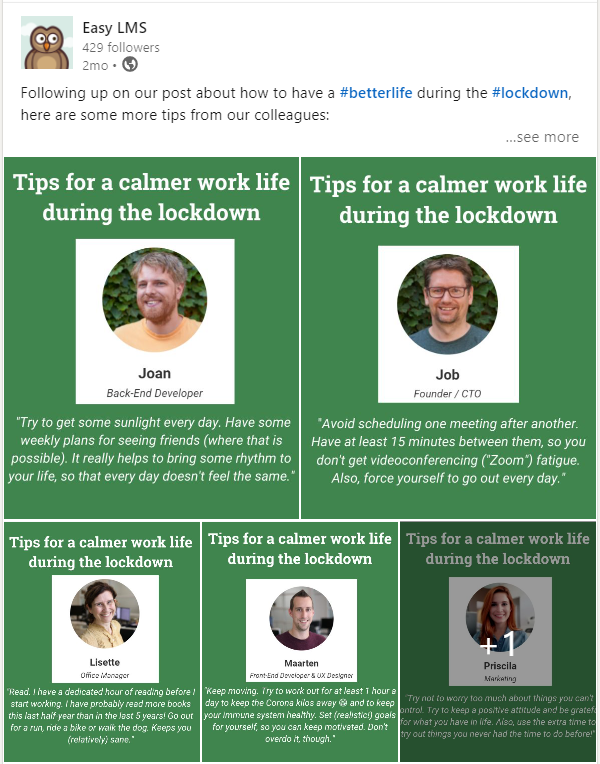 View post on LinkedIn.
What about you? What did you learn since the pandemic started?