LMS Branding
Would you like to brand your e-learning materials and make them look like everything else in your company or website? That is possible with Easy LMS. You can do it all by yourself in your account or ask us to make some more complex customizations for you if you need an even more customized experience. Keep reading to see what is possible.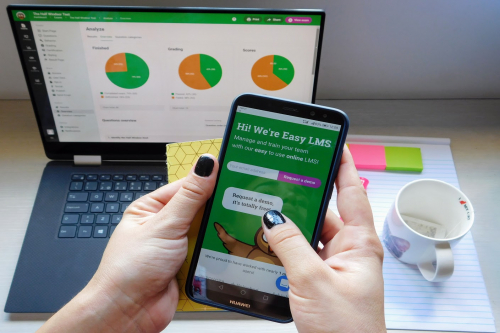 Customizable elements
As you can see, we use an Owl for the administrator dashboard 🦉and bright colors. That is because we believe in creating a fun and interesting experience for our clients, whether they work in a more formal or casual environment. You will notice our casual and fun tone of voice throughout our product. So that part (the admin dashboard) of our tool cannot be changed (and that's a good thing).
So, what can be changed?
The (learner) interface of your tests and courses. When you create e-learning materials with Easy LMS, you have the option to choose different colors for your buttons, for the background, add a logo, images, etc.
It's also possible to change the alignment of the text, font size and type, add a background image, and so on. Some of these changes can be made directly from the Styling tab in the admin interface of the test creator and others can be made with custom CSS.
Custom CSS
Depending on your plan, you can also customize the CSS of your tests and courses. Depending on your CSS skills, there are a lot of changes that you can make to the interface of your tests. We've had customers who changed the look of the timer bar, added animated flashy transitions, and other great stuff with custom CSS.
Academy Portal
Do you want to publish all your e-learning materials on a branded page with your company logo, fonts, and colors? Want to use your domain and not tell anyone that you are using our tool? 🤐 That's possible too, with our academy portal.
Create a branded experience for your users?
This is the right place for it. Sign up for a free trial or contact us through the chat to discuss the possibilities.
More articles that might interest you