Online course builder: build and manage courses
The online course builder software is part of our online Easy LMS. With our course builder you can create courses with text, images, embed videos, create practice questions and test your users with a real exam. Afterwards you can assign them a certificate. Completely automated!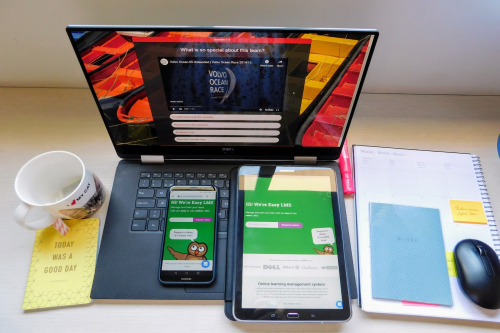 Create online courses
Build courses with our online course creation software. We made it as simple as possible. You can just focus on the content. Let our course builder software handle the rest. You don't have to worry about design, layout or fonts, colors etcetera. Our designers setup a well balanced course design.
You slice up your content in smaller chunks and dedicate a slide to each piece of learning material. Put in the text, images and videos you need to explain. Don't make the reading pieces too long or your students will lose their concentration. Keep the reading limited to approximately 15 minutes for each slide. Throw in some practice questions after each reading slide to enhance interactivity and keeping the students engaged.
Start your course with a short introduction of the content of your course. For the next step you can ask your students to sign up or log in. Then the learning process can start with your first slide.
Practice questions
After having your students put some effort into reading and studying let's give them some action. We believe in alternating reading (studying) and doing (practice). Throw in some practice questions to test your students.
Distraction free learning
We believe we created the most beautiful learning experience in the market. We really put some effort in creating a full screen, distraction free learning environment. Your content will stand out. Your students will learn.
Test with a real exam
End each course with a real exam. Use our exam builder to piece together a tough test. Read more about our exam builder.
Certification
Need to hand out a certificate to your students? No problem! We have an app for that :-) Actually it's not an app, it's an integrated part of our Learning Management System. There's so much to say about this, so we dedicated a whole page to online LMS certification for our courses.
Online course management
Manage all your courses, students and course content in one place. Use our dashboard as a starting point for managing your online courses. Do you want to learn more about how to create an online course? Check our step by step guide.
More articles that might interest you