Behind the scenes of a client story and how to get involved!
Our clients are at the center of everything we do. We are in constant communication with users of our tool because your feedback helps us create more effective e-learning software. Your opinions guide other potential clients to enjoy the time-saving benefits of our LMS. Sharing your story with us is simple and can be done online or in person. Curious? Keep reading to discover what you can gain!
What's in it for me?
Participating in a client story will guarantee a couple of fun hours meeting the friendly faces behind your LMS software! But there are plenty more reasons to do a client story with us. For example:
You can share your feedback about the tool with us directly.
You can tell your story, and we will link to your website, use your logo, and make a LinkedIn post about it. It definitely helps your SEO and company branding!
You can gain new marketing material by taking photos and videos of our interview.
You can have your say about how you want your company to be presented.
You can be the star of your own professional video!
What can I expect from the process?
The process is pretty straightforward. We want to hear from you, whether that's in person or online! If you are part of a training or consultancy company from any industry, send us a message to let us know you're interested in telling your story. Then, we'll pick a date and time together and make sure to send you all the relevant information ahead of time.
The interview, for which we work in collaboration with a professional videographer, will take about one hour online and 1.5 hours in person. First, we'll introduce ourselves. Then, we'll ask questions about your experience with Easy LMS and how it's helped you save time while delivering high-quality services to your clients. Privacy is a top priority for us and you, so we never include client names. You're in control of what you feel comfortable sharing. Afterward, we'll screen record while you show us around your account, highlighting your favorite features of Easy LMS. For an online interview, this is where our conversation ends. Our videographer will film extra footage for in-person client stories to showcase your working environment and surroundings.
Privacy is a top priority for us and you, so we never include client names
After the interview, our videographer will need 2-3 weeks to process the footage, go through a couple of feedback rounds, and finalize the video. After you've given it a thumbs up, it's ready to post on our website and social media!
Behind the scenes of two client stories
Online interview
Our client stories include clients from all over the world. We interviewed Michelle, the Learning and Development Coordinator at UFS Pharmacies. She's based in Victoria, Australia, and therefore opted for an online interview.
The online interviewing process with Michelle was relaxed and fun. We sent her the interview questions and then arranged a date and time for our Zoom call. Our professional videographer joined the call to help with the second part, where Michelle navigated around her Easy LMS account and discussed her favorite elements. The conversation flowed easily, and the interview had an informal tone. We're ready to put you at ease with plenty of question prompts if you feel nervous in front of the camera!
We're ready to put you at ease with plenty of question prompts if you feel nervous in front of the camera!
After the call, we worked with our videographer to create a three-minute video. We received Michelle's approval, and then our content writer wrote a client testimonial article and posted it on our site with the interview video embedded.
We thanked Michelle for her time by sending her traditional Dutch cookies called 'stroopwafels'!
In-person interview
Our interview with Erik, owner of Burggraaf Consultancy, was a little closer to home and just as rewarding! Our content writer, Helena, and our videographer visited Erik's office in the Dutch countryside and had a great morning.
The day started with coffee and introductions. Then, the video equipment was set up, and the interview commenced! Erik enjoyed the process, and lots of smiles and laughter were exchanged. A colleague of Erik's took photos and videos of the filming process for their company marketing.
Erik enjoyed the process, and lots of smiles and laughter were exchanged
After the interview, the videographer took additional footage of the office's exterior and interior. Erik suggested we film him greeting us at the entrance of the building. His input helped make the video feel personal and unique!
We enjoyed lunch together, and Erik shared his feedback about Easy LMS and the features he'd like to see in the future. Then we said goodbye! The team at Burggraaf Consultancy received chocolates as a token of our thanks.
We followed the same process after the interview as we did with Michelle, working with the videographer to create a final version and sending that to Erik for approval. Keep your eyes peeled for this client story, coming to our website soon!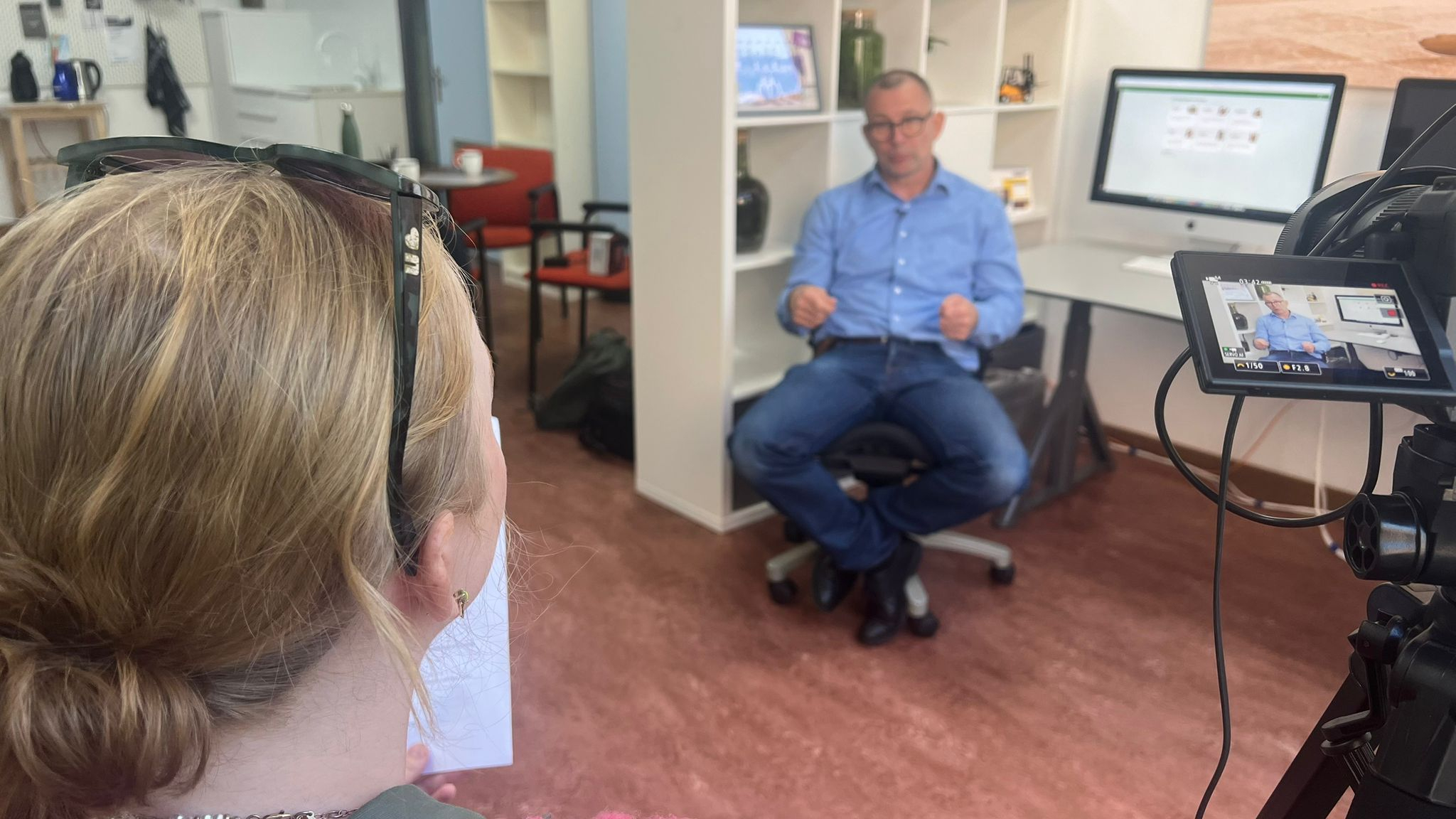 Tell us your story today!
We'd love to hear from you! Are you ready to collaborate or looking for more information? Send us an email.