LMS for customer training
A happy, educated customer has a major impact on the growth of your organization. That's why you should put your customer in the driver's seat by offering them online customer training. With Easy LMS, you can provide them with great product instructions and updates. This results in faster product adoption, in-depth product knowledge, and higher retention rates.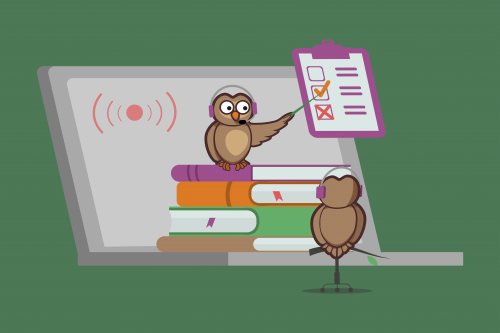 Why use an LMS for customer training?
Get product feedback
Identify which parts of your product are a black box
You can identify which parts of your product are a black box to your customers. You will get this information if you include test questions in your instruction material. You can act on this information by updating your online manual, or worst-case scenario: rebuild a feature.
Certify product knowledge
Are you a supplier, and do you work with resellers? You want these resellers to give accurate product information. With a learning management system you can teach them every tiny detail and certify their knowledge.
Increase sales
As a business, you want to offer a complete package, including excellent support and guidance. By providing an LMS you are one big step ahead of your competitors. It looks professional. A buyer may feel more secure about a purchase knowing they will receive online training.
Customer loyalty will be better than normal
Higher retention rates
The cost of acquiring a new customer is anywhere from five to 25 times more expensive than retaining an existing customer, research shows. Make customer training a priority, and you will see customer satisfaction rates rise to great heights. Also, customer loyalty will be better than normal. As a result, your customers are willing to renew their contracts over and over again. And isn't that all you want?
Reduce support costs
With a learning management system, you can provide new product information on time. By acting progressively, instead of just waiting to see what happens, you will be ahead of many questions. Support can spend their time on more valuable stuff.
Reduce overheads
We all want to be super organized, but unfortunately, this is only reserved for the happy few. With an LMS you don't have to be an organization guru. You have all your instruction material in the same place, in the same format, and just one click away. Also, administration is not a burden anymore.
An LMS is also ideal to get your customers up to speed with your product quickly. Read more about an LMS for onboarding.
Why is Easy LMS the solution for you?
Multilingual
Do you have customers from all over the world? Our LMS is available in 24 languages. From Spanish to Danish, and from Russian to Hebrew. You name it, we have it.
Excellent content creation options
Add videos, Prezi presentations, images, audio files, and PDF documents
Easy LMS includes a user-friendly course builder that allows you to add videos, Prezi presentations, images, audio files, and PDF documents. Get your customers to experience your product in a fun and engaging way. Let the course explain it all. Customize it with the colors of your brand. You can invite your customers by email in a few easy clicks. Or make your training material available on your website.
One central place for all your learning materials
Keep your customers up to date. In our Academy, can you set up different courses and assign them to different types of customers, based on the type of product they use or where they are located. Also, you can give group administrators different access levels. In this way, you can put one colleague in charge of the onboarding material, and another colleague in charge of the product updates.
Integration with your CRM
Let's connect your database of customers with our system. You can use webhooks or POST and GET parameters. This saves you tons of time.
Self-paced learning
Your customers are in control, because it's self-paced. They decide what, when, and how long they want to spend on your instruction materials. Only thing they need: a laptop, tablet, or smartphone. Also known as: super accessible 😉.
Read more if you need an LMS for customer onboarding.
Our LMS has the perfect features to let your customers get the most out of your product!

Anna, implementation consultants at Easy LMS
Our top 5 customer training features
Check out our complete list of features.
We are able to create courses for our clients to learn, re-learn, keep up with changes in our software. We are also able to offer refresher courses to existing clients and give internal courses to make sure everyone's skills are kept up to date.
More articles that might interest you