LMS for compliance, accreditation and certification training
Whether you sell cupcakes or manufacture airplanes, it is likely that your employees must complete some form of compliance training. Just because compliance training is mandatory, doesn't mean it has to be boring. With Easy LMS, you can keep your courses up-to-date and engaging. You can also lower your workload with our reporting, email reminders, and certificates. It's a win-win!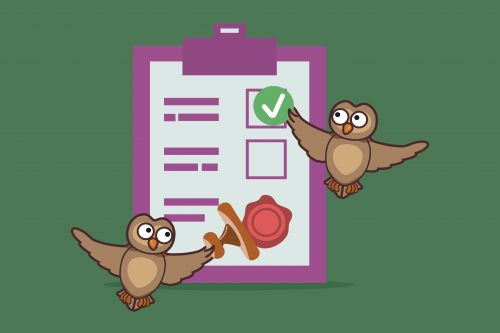 Why use an LMS for compliance, accreditation, and certification training?
Increase course completion
It is safe to say that no one loves mandatory training. So getting your employees to complete their courses can be like herding cats. Placing your training materials in a cloud-based location makes it easier. They can access their training courses from anywhere, at any time, and on all devices.
Any update is immediately reflected for your employees
Keep your courses up-to-date
You can count on the laws, regulations, and policies that comprise your training courses to change. An LMS makes these updates simple. Any update, no matter how large or small, is immediately reflected for your employees.
Meet deadlines sooner
The hefty consequences of non-compliance mean that meeting deadlines are a must. In-person training takes up a lot of time. Scheduling a time where everyone can attend can be difficult. Scheduling a global team with different timezones is even harder. Instead, an LMS gives your employees the chance to complete compliance training at their own pace, and when it suits their schedule best.
Generate accurate reports
Activities and progress will be automatically recorded
You will need to verify your training activities with another organization. With an LMS, your employees' activities and progress will be automatically recorded. You can use these reports to quickly prove who has and who hasn't met compliance regulations.
Why is Easy LMS the solution for you?
Affordable and user-friendly
You might think that it is only possible for large organizations to afford and maintain an LMS. Yet, Easy LMS has a pricing model to fit every budget. And, our intuitive system means that anyone in your organization can get up and running with the tool in no time!
Deliver targeted compliance courses
The types of compliance training vary greatly by job title and location. With the Academy, you can create groups of learners based on departments or locations, and assign them only the compliance training courses that they need. This makes it easy for your employees to see exactly what they need to complete and when.
Automate compliance training
You can automatically grant certificates with an expiration date
Implementing compliance training in your organization can be cumbersome. With Easy LMS, you can reduce the workload by automatically inviting employees through our software via API integration or single sign-on. Send out reminders to those who haven't completed their courses. When someone passes, you can automatically grant certificates with an expiration date.
Increased engagement
There are many off-the-shelf options available online, but these are quite generic. Adapting your courses to the specifics of your company makes it more engaging and clear. Easy LMS includes a user-friendly course builder that allows you to add videos, Prezi presentations, images, audio files, and PDF documents. Now, when your employees see a practical example, they will see a familiar scene and material that applies directly to their workplace.
Increased learning retention
At the end of the day, compliance training exists to ensure the well-being of your employees and company. This means it is important for your employees to both complete and understand the material. Using Easy LMS puts your employees in control of their learning. They decide what, when, and how long they need to spend on the training materials. Easy LMS enables you to add optional exams and practice questions, which help your employees assess their understanding. As a bonus, add gamification and certificates to make it more engaging and fun!
Our LMS has great features to make mandatory compliance training fun and manageable!

Eléonore, implementation consultant at Easy LMS
Our top 5 compliance training features
Check our complete list of features.
Most of our clients are Fortune 500. We train them to get them prepared for their Project Management Professional (PMP) exam. Passing the exam requires a lot of practice. That this LMS allows people to retake practice tests, is one of the big appeals of the system.
More articles that might interest you