LMS for employee training
Implementing employee training throughout your organization can quickly become cumbersome and time-consuming. Just ask a few training managers, and they will definitely agree. Easy LMS is essential for reducing your workload. Moreover, our LMS is fundamental to effectively give your staff the knowledge they need to excel.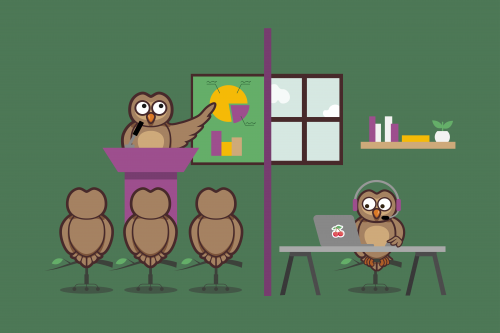 Why use an LMS for employee training?
Centralize learning
With a learning management system, you can organize your training materials in a centralized, cloud-based location. Instead of searching through a collection of random Word documents, folders, and hard drives, your employees can spend their time on what matters: learning. Also, the training materials are accessible from anywhere, at any time. This is especially helpful for global teams with different timezones where finding a shared time for training is difficult.
Using an LMS makes maintaining your training materials a breeze
Simplify maintenance
Using an LMS makes maintaining your training materials a breeze. Any update, no matter how large or small, is immediately reflected for your employees. Gone are the days where you need to redo entire courses, and resend your materials, each time you need to make a change.
Track employee progress
With an learning management system you can instantaneously track and record your employees' activities and progress. Use these reports to quickly identify who has successfully completed their courses. Or, learn what topics someone might need extra help with, and share additional learning materials accordingly.
Reduce costs
When replacing face-to-face training with an LMS, you cut the cost of plane tickets, gas, and accommodation. It also reduces costs associated with printing and sending manuals and guides. Save some paper with an LMS 😉.
Why is Easy LMS the solution for you?
With our LMS you will have everyone up and running in no time
Easy LMS is affordable and user-friendly
You might think that it is only possible for large organizations to afford and maintain an LMS. Yet, Easy LMS has a pricing model to fit every budget. And, our intuitive system means that anyone in your organization can get up and running with the tool in no time!
Identify knowledge gaps with exams
With Easy LMS, you can see a summary of how all employees answered each question in each question category. This enables you to instantly see which topics need to be addressed with additional learning materials.
Invite, manage, and track employees in a few simple clicks
With the Academy, you can share your exams and courses in a fully branded environment. Create groups of learners, such as departments or locations, and give them their own course library. Upload employees to the group, or send them to our LMS software via API integration or single sign-on. Then, view and export the progress of your employees by group!
Create autonomous teams
Does your job end with creating the training materials? With Easy LMS, you can add more administrators to manage the tool and determine their access level. This means that other individuals, such as branch managers, can access their group(s) only. From there, they can take over their employees' activities and progress directly.
Make it engaging and fun!
Increased learning retention
Easy LMS enables you to add optional exams and practice questions, which help your employees assess their understanding. With Easy LMS, you can cut lengthy training courses into smaller parts to help your employees stay focused on their learning objectives. As a bonus, add gamification and certificates to make it more engaging and fun!
Reduced training time
With our tool, employees can go through the materials at their own pace, and spend more time focusing on what they need most.
Read more if you need an LMS for employee onboarding.
Our LMS has all features to support continuous education of your staff!

Brian, implementation consultant at Easy LMS
Our top 5 employee training features
Check our complete list of features.
I can practically see in real-time how many people have been answering, and the behavior of the evaluations. Based on the reports we get, we can define what the gaps in the knowledge of our employees are and what we should focus on. We can stimulate growth more than before.
More articles that might interest you