LMS for franchise training
If you run a franchise, then you know that constant training is necessary in order to keep your processes and products uniform throughout the units. That can be a challenge, especially if those units are in different locations or even different parts of the world. Using Easy LMS can help you scale your training material and save a lot of training costs.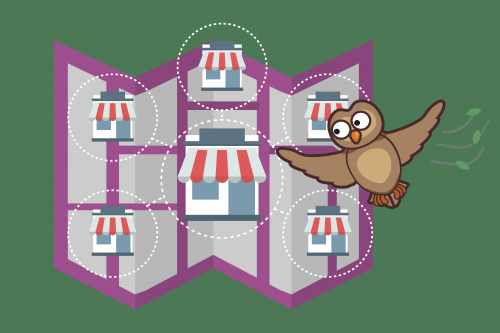 Why use an LMS for franchise training?
Lower costs
With a learning management system, the franchisor can optimize the franchise training without taking up so many resources. For example, moving the team to a new location in order to train the franchisees. To put it simply: using an learning management system is very cost-effective .
Guarantee brand integrity throughout different units
Set it up once, and share the same standardized material for as long as you want
Make sure all your units are on the same page about all the rules and procedures in your organization. As the franchisor, your main task would be creating the training material and making it available for your franchisees. Set it up once, and share the same standardized material with all franchisees and employees for as long as you want. The material is digital, so you can make quick changes whenever necessary.
No boundaries
Whether you have units or branches in South America, Europe, or Asia, or across many states in the USA, your online training material is always available.
Why is Easy LMS the solution for you?
Create awesome learning material
With Easy LMS you can create fun, interactive online courses to explain the franchise's rules and procedures. Organize it in different learning paths, and assign it to specific groups in your own Academy. Online exams can be used to create knowledge tests given during or after courses.
Publish your learning material on a company-branded page
Publish your learning content in your own branded Academy
It's all about your brand. So keep your brand in focus by publishing your learning content in your own Academy. The Academy can be fully branded, from fonts to colors, and even have a custom domain. You don't even have to tell anyone you are using Easy LMS 😉.
Generate certificates
It's possible to generate automated, personalized certificates when someone passes an exam or completes a course.
Create a group for each franchised unit
You can create a learning group for each franchised unit, with its own learning content, and keep it separated from other units.
More power to you
Add multiple administrators
Be the main administrator, and have other administrators with different access levels. Create the learning material for all your units, and let the franchisees have access only to the learning content and results of their own unit, while you can see them all. More power to you!
Choose between different languages
Do you have franchised units in different locations (including different countries)? No problem. With Easy LMS you can choose different languages for your tests and courses.
Analyze the results (individual or group level)
You can see the overall results, analyze the results per franchised unit, or per individual. As the franchisor, you can see which franchised units are performing better than others and then study these units, promote them, and learn from them. A full-cycle process. That whole process is much easier with an LMS since you can keep track of your users' activities in the results and statistics.
Our LMS has perfect features to scale your training material!

Anna, implementation consultant at Easy LMS
Our top 5 features for franchises
Check out our complete list of features .
It took us a lot of resources to train employees from different locations. With Easy LMS it is possible to manage continuous education without stress. We don't need to spend time on the road anymore. With everything online, the employees can take the training whenever they want!
More articles that might interest you