LMS for onboarding: boost your onboarding process
It's up to you. Do you give your new customers or employees a warm welcome, or do you leave it up to fate? Everyone knows first impressions matter. Our LMS speeds up onboarding. For new employees, it'll help them contribute more quickly in their new role. It'll also benefit customers by ensuring they get the most out of your product or service. Use an LMS for onboarding, and they'll stick with you for years. Their commitment is your success.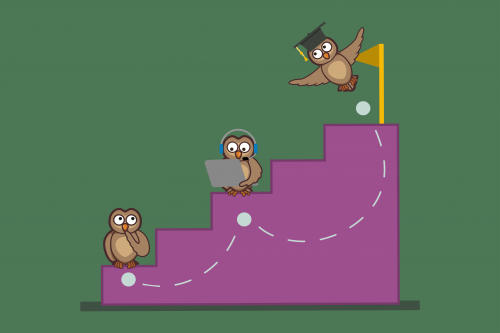 Why use an LMS for onboarding?
You can use an LMS to onboard new employees or customers. Of course, their purpose is different, but their benefits remain the same. Let's list them:
Save money
Online onboarding requires fewer human resources
Onboarding is often a challenge. You have to arrange meetings, provide classrooms, hire trainers, and provide printed materials. You eliminate these costs by placing your onboarding online. Online onboarding requires fewer human resources. Also, excellent onboarding makes sure that your new hires will more quickly become productive and generate revenue. The same applies to customer onboarding. By offering them online onboarding, they get more out of your product, and you stay ahead of questions. The result is fewer questions in your support team's inbox, which leaves them with more time for other valuable tasks.
Everything is online
Paper manuals and introduction lessons in a classroom … We are not in 1999 anymore. With online training software, you're up-to-date and futureproof. Being current is a must, especially for online products. Putting everything online is better for the trees (and the Owls in the trees😉). Also, you will feel less disorganized!
Increase productivity
An LMS helps to absorb more information and retain it better
The ultimate goal of onboarding is to get your new hires or customers quickly up and running. You want them to understand your product or organization to its full capacity. But all the information and options can overwhelm them. This feeling can devastate your results if the new hire or customer feels that the company or the product is a bad fit.

With an LMS, they can learn on their schedule and at their own pace, which helps them absorb more information and retain it better. Because they are better informed, they can easily connect the dots! So, new hires will contribute quickly and new customers will benefit more from the product or service.
Increase trust
An LMS makes you look professional. It shows that your company is open, reliable, and organized. When someone has a positive first impression, he or she is more eager to stay. Did you know that the cost of acquiring a new customer or employee is way higher than keeping an existing one? It cost as much as 25 times more than retaining an existing one.
An LMS is also ideal for continuous product training and employee training.
LMS for employee onboarding
Easily create knowledge tests
Easy LMS includes an Exam builder. You can use this to create knowledge tests after the initial training and see if your new hires are ready to start on their roles. You can also check the quality of your own training by seeing if the overall exam results match your expectations. It's possible to set up a pass/fail rate, choose between different types of questions, including video and audio, and generate a certificate at the end (optional).
Create personality tests and surveys
Create Assesments to learn about your employees' strengths and weaknesses
Do you have a lot of talented new hires, but are unsure where to position them in the organization? Or would you like to know about which team they would fit better? You can create Assessments to learn about their strengths and weaknesses. Assessments can also be used to measure your employees' satisfaction with the onboarding course(s).
LMS for customer onboarding
Integrate with your CRM
Let's connect your database of customers with our system. You can use Webhooks, our API, or POST and GET parameters. These integrations will save you tons of time.
Get to know your new customers better
Always wanted to know more about the size of your client's business? Our LMS enables you to ask for more personal and company information. You can create custom questions. Based on this information, you can target your marketing more precisely or refine your product.
Our LMS has the perfect features to give your new employees or customers a kick-start!

Anna, implementation consultant at Easy LMS
Other benefits of Easy LMS
Easily create training materials
You can create beautiful introduction Courses in your corporate style that make a good first impression and communicate who you are as a company. Make new hires and customers feel welcome. It's possible to combine text, video, images, and audio files in your online courses, making onboarding fun. You probably have some documents or PDFs that you send out. You can add those to your Courses as attachments, images, or copied text.
The Academy is your employees' or customers' learning portal where they can access their course library
One central place for all onboarding material
Put all your tests and training materials in one place with the Academy. The Academy is your employees' or customers' learning portal where they can access their course library. You can create groups of employees or customers. These groups can be departments or sectors in your company. You can assign specific content to specific groups and analyze their progress. Easy and simple!
Analyze the results, improve your onboarding material
Track your employees' or customers' progress by viewing their results and statistics in real-time. You can see exactly when your participants start an activity and how much progress they have made so far. You can further analyze the results by exporting them into an Excel file. With this in-depth view of your participants' results, you can quickly identify pain points and improve your onboarding process even more!
Multilingual
Do you have customers or employees all over the world? Our LMS can handle that. It's available in 24 languages.
Our top 5 onboarding features
Check out our complete list of features.
It's a very easy platform to use. It allows us to evaluate our staff in a better way and optimize the duration and quality of our exams and evaluations. It saves us so much time, and the employees are so happy that they can finally see their progress.
More articles that might interest you